"Au Plan K"

The Addendum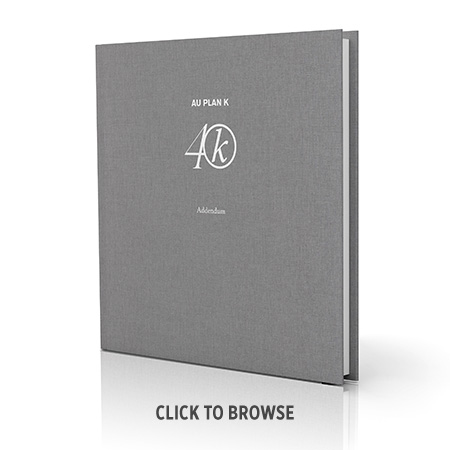 Last copy!
I am thrilled to present the
new coffee table book
of New Wave Photos.
It's was crowdfunded and has been completely funded.
The campaign ended on Octobre 16, 2019, Joy Divison's first concert in the Raffinerie's 40th anniversary.
It is no longer available. Not here, not in stores.

» readers and early crowdfunders' reaction.
297 mm x 297 mm, 56 pages (4 colors + 1 PMS for B&W)
Grey linen hard cover with white serigraphy, no dustcover
Editorial content fully ENG/FRA bilingual
Price: starting at 36 euros

This Addendum is a separate book gathering unpublished material:
• photos,
• posters,
• recollections,
• an interview of Annik Honoré,
• documents.
This Addendum, isn't a 2nd nor a "light" Au Plan K edition. On the contrary, it is meant to find its place next to the latter.
• new photos:
a posed photo session with à;GRUMH... for their Rebearth album cover, Wiseblood live photos, Paul Haig colour photos.
• new posters ...
I couldn't include in Au Plan K for lack of space.
• new recollections ...
since Au Plan K publication, I have been able to contact more people some of which had been unfairly overlooked in the first book.
• an interview of Annik Honoré ...
journalist Philippe Cornet has agreed to share the interview he did with Annik (one of the few existing) for Le Vif magazine, a few years before her untimely death.
• new documents ...
last but not least, Annik's daughter Sasha allowed me to search her archives. I found tickets, notes, contracts and other documents that shed some light on her passion, that reveal some of the behind the scenes work, that illustrate how everything was "hand made" at the time. These documents are reproduced big enough so you can read them without a magnifying glass ;-)
A 2
nd
augmented edition would have been a rip off for those who bought and supported the first project. It would also have implied a (yet) heavier and more expensive book. On the contrary, this
Addendum
doesn't take any value away from
Au Plan K
and everyone is totally free to acquire it - at a very reasonable price - or not.
As far as I am concerned, this book closes my "Plan K" adventure and allows me to serenely consider further projects: I no longer have in the back of my mind any regrets of what I should/could have included in the first volume.
The story closes, traces are left.
Au Plan K 40 can be sent to your home or collected at the "release party" held at La Raffinerie (formerly Plan K), 21 rue de Manchester in Brussels, on January 17, 2020 day of Joy Division's 2nd concert at the Raffinerie's 40th anniversary.
You can order the book on its own or bundled either with Au Plan K or W-Festival 2017.
Vous avez également le loisir de le commander accompagné de Au Plan K si vous ne l'avez pas encore ou accompagné de mon livre de photos consacré au W Festival 2017 proposé à un prix très doux.
Finally - and exclusively for those collecting the book at the release party - you can bundle Au Plan K 40 with one of the last copies of Au Plan K limited edition (originally set aside to replace a damaged shipment).
#auplank40 #auplanktheaddendum #auplankthebook
Readers' opinions
« Many thanks for the book... It's in fact even better than I expected and a really nice companion to your previous book(s), once again beautifully made and a really interesting journey back in time, not to mention full of great images. »
> Jan Erik
« Got the book! So beautiful! »
> Tom
« The book is awesome as I expected so congratulations on a beautiful piece of work. »
> Glyn
« Thank you very much for the beautiful book Philippe. It will join my studio library collection. »
> Stuart
« More pages, great job again Philippe. »
> Danny
« Looking forward to the book & party! »
> Sean
« Congratulations for this great project. I can't wait for this to go with my previous book! »
> Glyn
« Looking forward to your new book. »
> Marc
« Bravo ! Trop hâte ! »
> Roch
« Congratulations for this great project »
> Iain
« Top top top !!!!!!!!!!!!!! »
> Nicolas
« Sky is the limit. »
> Erik
« Sky is the limit. »
> Carl

In the press
20200125 Musiczine (web) (ned)
20200123 Musiczine (web) (fra)
20200118 Dark Entries (web) (ned)
20190901 Musiczine (web) (fra)