"W-Festival 2017"

A three day post-punk extravaganza in Amougies, August 18-20, 2017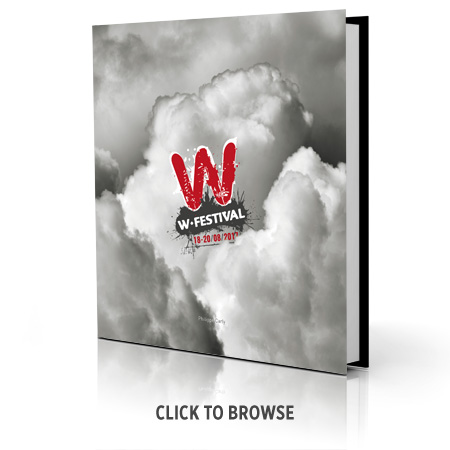 35
I am thrilled to announce the
new coffee table book
of New Wave Photos.
The book is already available and it is beautiful!

It features 94 live photos from the 3 days festival that took place in Amougies (BEL), August 18-20, 2017.
12"x12", 96 pages in duotone
Hard cover and dust cover
Editorial content fully ENG/FRA
ISBN 978-2-9602227-0-8
Published by New Wave Photos
Price: 40 euros (p&p not included)
Only 200 copies have been printed!
It will be sold exclusively at W-Fest 2018 (150 copies)
and here on the site (50 copies).
I can only recommend to act swiftly!

August 18, 19 and 20 2017 were three precious days for fans of new wave and electro. At the airport of Amougies (a small Belgian village near the French border), thousands of people gathered to see performances from legendary bands. Over 25 bands with one thing in common: musical roots in the 80s.
So needless to say, Philippe Carly was there to take photos of bands he had already caught in their glory days more than 30 years ago.
For Philippe, it was like travelling back in time. The man who made epic photos of Ian Curtis was again in front of the Human League, Blancmange, Front 242, Lene Lovich, Anne Clark, Fischer~Z, Big Country, the Kids, Red Zebra... with his camera. It was also a good opportunity for a first time encounter with bands he had missed, such as China Crisis or T'Pau.
This Belgian festival is a melting pot of new and old talent: Carly also took pictures of rising artists who are at the beginning of their career, just like Joy Division or Echo and the Bunnymen were, when they performed at Plan K.
This book offers an overview of photos taken by Philippe Carly in the style that made him one of the most renowned photographers of the new wave era: pictures with a melancholic touch that fit the timeless classics performed by the bands. It's a beautiful souvenir for all those who were there or for those who want to relive the golden days of new wave.
» Didier Becu (Luminous Dash)
Bands featured (in order of appearance) :
the Serious Five (BEL), La Lune Noire (NLD), Suffocating Minds (BEL), Schmutz (BEL), Honeymoon Cowboys (BEL), Star Industry (BEL), the Arch (BEL), Neon Electronics (BEL), Xarah Dion (CAN), Lene Lovich (USA), the Kids (BEL), Sian Evans (GBR), Blancmange (GBR), Anne Clark (GBR), the Human League (GBR), Vomito Negro (BEL), Desireless (FRA), Hante (FRA), China Crisis (GBR), T'Pau (GBR), Big Country (GBR), Fischer-Z (GBR), Tom Bailey (GBR), Front 242 (BEL), Red Zebra (BEL).
In the press
20180809 Musiczine (web)