"Au Plan K"

Joy Division & Post-Punk at La Raffinerie du Plan K, Brussels, 1979-2009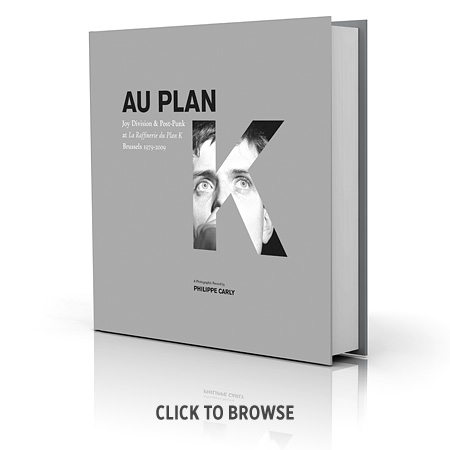 SOLDOUT!
It is available and you can order it. It's beautiful!

» Read what the readers and the press say.
In addition to my photos, it features memories and anecdotes from major Plan K figures* (musicians, designers, journalists, collaborators) as well as the reproduction of original posters.
12"x12", 288 pages (264 in duotone, 24 in colour)
Soft cover, duotone dust cover
All editorial content fully ENG/FRA bilingual
Foreword by Kevin Cummins
ISBN 9-782930-115443
Published by: ARP2 Editions
Price: 98 euros (p&p not included)
New York had CBGB, Paris had Les Bains Douches, Amsterdam had the Paradiso, Manchester had its Haçienda… And from 1979 to 1986 the Belgian capitol Brussels had Plan K, a wondrous "counter-cultural centre" housed in a former sugar refinery, and destination of choice for those seeking cutting edge music, avant-garde happenings, films, dancing, and industrial architecture.
The list of headline attractions at Plan K reads like a who's who of post-punk. Joy Division, Cabaret Voltaire, William S. Burroughs, The Human League, Orange Juice, Josef K, Scritti Politti, James White, Tuxedomoon, Front 242, Bauhaus, The Slits and many more. Most of these legendary performances were documented by noted new wave photographer Philippe Carly, who has selected the best of his images for this rich and varied book, giving readers a unique opportunity to relive these moments as if they were standing in the front row.
Pride of place goes to all 56 images shot by Philippe at two landmark shows by Joy Division at the venue on October 16, 1979 and January 17, 1980. However, he has scanned and carefully restored 300+ original negatives from more than 70 different performances at Plan K.
In addition, Philippe has invited musicians, journalists, collaborators, designers and spectators to share their memories and anecdotes*.
«From taking these photos to designing this book it's been a labour of love» says Philippe.
Whether you are interested in photography and design, or simply nostalgic about some of the greatest bands of the post-punk era, this book will be what your coffee table has always been waiting for.
* Stephan Barbery (Digital Dance), Martyn Bates (Eyeless In Gaza), Marc Borgers (graphic artist), Vincent Cassidy (Section 25), Jean-Luc De Meyer (Front 242), André Delier (architect, Plan K collaborator), François Delotte (journalist), Yannic Duchesne (journalist), Michel Duval (Les Disques du Crépuscule), Karen Finley (performing artist), Frédéric Flamand (Plan K founder), Philippe Genion (à;GRUMH...), Isabelle Hanrez (Passengers, Isabelle et les Nic-Nacs), Peter Hook (Joy Division, New Order, the Light), Michael Leahy (Mad Virgins), Jean-Marc Lederman (Digital Dance, Kid Montana), Philippe Lemprez (Trisomie 21), Sébastien Ministru (journalist), Jean-François Octave (Les Disques du Crépuscule), Marc Oschinsky (journalist), Gerard Pas (visual artist), Michel Sordinia (the Names), Richard Strange (Doctors of Madness), Etienne Vernaeve (Isolation Ward)
Readers' opinions
«I received my book today ... Perfect condition... Thank you, it's a beautiful book and one I will cherish...»
> Adrian
«I just received my Au Plan K book today and it is truly a thing of beauty. I had wanted to own one for quite a while and decided to treat myself! Thank you for sharing such beautiful photos - absolutely of real historical importance.»
> Paul
«I own your big book about the "Plan K". Really a must have !»
> Franck
«Thanks so much for the book [...] and I'm so happy with what you've produced, amazing photos during a wonderful era. I'm so glad someone documented Plan K so respectfully.»
> Geoffrey
«Received it today and it looks great. You made my day. Thanks a lot and keep up the good work Philippe.»
> Danny
«Just got the book... It's really an awesome job. Wow! So nice.»
> Roch
«I knew it would be beautiful of course but still ... It takes my breath away ... I want to look at it all the time but on the other hand I want to look at it taking my time, for example studying a picture a day so I can take a little longer to take in the beauty of it all. Thank you for so much beauty much needed in these mad times. I never did go to Plan K at the time 'cause I was shy and a loner and didn't know anyone to go with but I always dreamed of going and now this book sort of makes the dream come true after all those years.»
> Bart
«My copy of the book has arrived safely, thank you very much! It looks fantastic, really beautiful, it's wonderful to have all these amazing photos collected in book form. I'm very happy to have contributed to this great project.»
> Jan Erik
«A fantastic period piece of a historic venue. Thanks to the efforts of a dedicated team, the avantgarde bands enjoyed to perform at this special place in Brussels, where Philippe on his turn portrayed a very influential era in music. Bands who combined their gigs by also visiting similar places in The Netherlands and for a short period I also pictured. The modest similarity is just visible in their clothes and the love for this music that we share. The work of this passionate artisan Philippe in this stunning and beautifully designed book by Joël Van Oudenhaegen and Collin Hotermans is a great addition to my collection!»
> Marc
«I was very excited to receive this very fine book today. It is not only a concise history of events at La Raffinerie du Plan K, it is full of wonderful and beautiful images taken through the years 1979-2009, documenting some of the most important cultural giants of the age. Philippe Carly has done such a masterful job in compiling all this material. His own photographs are remarkable and of the highest level.»
> Gerard
«Many compliments for your work! It's gorgeous... and so big too!»
> Fabrizio
«It is excellent - quite an achievement. It's a beautiful thing!»
> Martyn
«Thanks so much for the book... Its a wonderful memory for me.»
> Vin
«Thanks for the book - it looks great. Must have taken you ages to put it together. It's a lovely print job too.»
> Kevin
«Received the book today Philippe - it's a triumph. You should be very proud!»
> James
«Congratulations with your book, Philippe. The beautiful pictures... I had expected, but content and above all the sober layout are beyond expectations. Perfect job!»
> Luc
«Your book is absolutely amazing! Congratulations! »
> Felix
«Received it today and it looks great, you made my day.»
> Danny
«Book arrived today and it's beautiful. Many thanks for all your hard work and excellent design. As a book designer myself I appreciate the hard work, skill and love that has been used. A work of art. Thanks.»
> Chris

In the press
20171019 L'Alsace Colmar (print)
20170609 Grazia (print)
20170514 Prémonition (web)
20170512 Songazine (web)
20170216 M BX1 (@ 19:00)
20170215 Studio Brussel (@ 2:12:25)
20170213 O.C.T.A.V.E. BX1 (web @ 14:42)
20170208 La Première (radio)
20170205 Soul Kitchen (web)
20170203 Pure FM (webcast)
20170127 Focus (print)
20170126 Trends (print)
20170125 Moustique (print)
20170124 De Morgen (print)
20170118 Red Bull Musique (web)
20170117 Luminous Dash (web)
20170117 BRUZZ (print)
20161212 7 sur7 (web)
20161211 RTBF (web)
20161211 Bruzz (web)
20161211 7 Dimanche (paper)
20161208 La Capitale (paper)
20161207 La Capitale (web)
20161125 L'Avenir (web)
20161116 Moustique (paper)
20161110 Le Soir (web)